The WTF 'A' LEVEL Package - Efficiently Expressed Economics
This is it: 2 years' worth of H2 Econs in a mind-blowing 35 pages. You won't have to - nor want to - refer to your stacks of school notes again! (Neither did I; I based my revision solely on this and got an A. Awesome.)

Download to see this notes and its background in their full glory!
More on Economics
Latest Articles on Think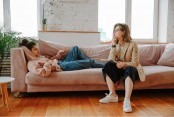 Will having a mental disorder affect my job prospects? And other common questions on mental health
1514 views, 0 recommends