Because We Once Wore Green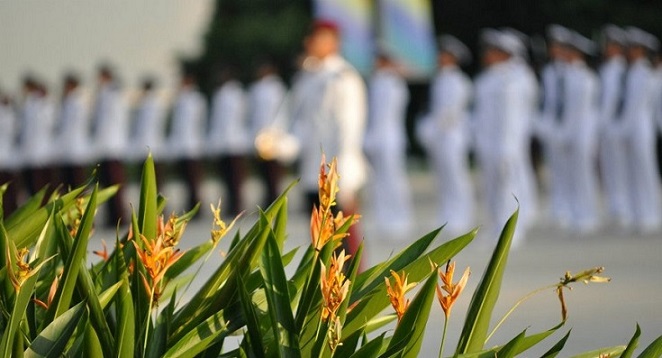 "It's good that you're going in. Just give them your two years and then you don't have to worry about it anymore."
The bus was somewhere along some road in Pasir Ris. The exact location didn't matter, although it was going to be a road I would love and hate depending on which side of the road I was on. It was the first time in years I was sitting on a commercial bus with my grandmother who, now in her seventies, was not very fond of walking. But she'd come along on this special occasion, and was speaking to me in Hokkien.
I struggled to recall the last time I was on the road with her. Blurred scenes of a tour in Thailand, when I was 10. That was 8 years ago. And even then, was it really her? I recalled a cheerful, energetic woman who was picking up English from Channel 5 serials, who cooked up a storm every Chinese New Year to satisfy hundreds of guests. I remembered perfectly black hair.
I wasn't done counting all the silver strands on her head when the bus pulled into the terminal. I was to have one less thing to remember her by. I soon found myself aboard a ferry with her. What an adventure it must be for her. Except this time we weren't going for any holiday.
Do you know how black holes work? I don't. But I've always imagined that at the heart of each one, there was something evil. Now I felt like I was on a high speed collision course with one of them. Every inch, every cell within me wanted so much to just…not go. How hard could it be? But I was already caught its gravitational field. I had been since I was born, male.
"It's not about what you leave behind, but what you will gain in the days ahead." I was fond of such inspirational, meaningless generalities. Maybe it would calm a troubled spirit or two. But not mine. And how can it not be about what I'm leaving behind, when that is precisely the reason I was doing this? How can I forget the people I would swear to protect?
It has always been, and will always be, about what we leave behind.
Enter an auditorium and a sea of confused faces. A gas chamber of lambs awaiting an unknowable slaughter. I took my seat alongside two strangers. On my right was another boy. He was not like me. He was talking to a friend next to him. On my left, darting, unsure eyes were scanning the room. Painfully alone, our situation was the same. Was he looking for an escape? There is none, I told him telepathically.
I wasn't sure, but I imagined my parents were seated behind me, somewhere higher up in the auditorium. Watching me, watching my every move to assure themselves I was fine. Watching over me. With the loudest voice I could muster in that situation, I repeated:
"I will preserve and protect (pause) the honour (pause) and independence of our country (pause) WITH MY LIFE! (emphasis added)"
I was made to stand in a line next to hundreds of those like me, waiting for our families to pick us out. With each unfamiliar parent that passed I knew I was to have one minute less with them today and for the next two weeks. They found me, as they always do, and we proceeded to where we were to have lunch. I knew things would never be the same again.
In school, I was always the last to finish my food, and my friends would always have to wait for me. My days in a uniformed group taught me how costly a weakness this was. And it was this knowledge, coupled with a frantic sense of loss and disorientation that drove me to wolf down all the food in front of me. Reluctance, on one hand, told me to eat slowly, to take my time and enjoy every minute of this final meal. But fear, on the other, reminded me of my weakness. Speed up or be left behind.
My grandmother, as usual, coaxed me to slow down. I replied that I was fine, taking care not to look directly at her because I knew it would bring tears to my eyes immediately. I needed to prove that the food was good - perhaps even a reasonable substitute for years of home-cooked, hand-made affection.  I needed to show that I was going to be able to cope. This was the last scene of the play, and I had to finish strong. I needed to be someone I was not ready to be.
Then, loud and clear, 3 times,
"All enlistees are to gather in the area to the left of the cookhouse immediately."
Yes, this was it. There was no doubt about it. I still hadn't finished the food. I stood up and told them the only four words I could muster,
"I have to go."
"It's ok, take your time, finish the food first."
"No, I should just go."
As I took my place in the seventh column of the twenty or so neat rows that were beginning to form, I looked back at the cookhouse to see the grandstand of parents, siblings, girlfriends and grandmothers who had gathered on the side of the building, as near to us as they could. Everyone was smiling, waving enthusiastically as their sons, brothers, boyfriends and grandsons took their place in the kilt of our nation's defence. Either I was the only one feeling as wretched as this, or everyone else was doing a much better job hiding their emotions. No wonder they say life is but a stage.
It dawned on me that I wasn't the only one going through this. Nor were the thousands of Singaporean sons who would change their addresses that day doing this alone. In reality, the entire family weathers this together. Mom does the laundry despite your increasing protests, Dad fetches you home whenever he's free, your girlfriend keeps you sane on the weekends…when they called it national service, maybe they really meant to say that the entire nation serves together.
I waved back, conjuring up a smile. I remember that scene. My parents, next to each other, mom on the left, dad on the right, with one arm around my mother. And my grandmother, standing on his right, looking at me with her usual serene expression. She wore a black shirt with a red floral pattern, along with straight, black long pants. It was her nicest and favourite shirt. Her hands were behind her back, giving her a look of authority and benevolence. And as I waved once again she smiled, and raised her right hand to complete the goodbye.
Years later, this image still brings tears to my eyes. But the sadness in these tears has evaporated.  Yes, it did happen. And it really hurt. I really did spend two years of my youth following orders and fearing punishment. The people I loved really did grow older.
But the good things, they happened too. I saw for myself how and why easily things could go wrong for us. I saw the inner workings of the military machine that's meant to ensure our sovereignty amidst a challenging global climate. I understood why there must always be rough men who keep vigil at night to protect the bedrock of our young nation. And most importantly, I saw their faces too, for I was momentarily one of them, and each one was as human, as brotherly or as fatherly as the next.
A famous writer once said that perfection is achieved not when there is nothing more to add, but nothing left to take away. And boy do they take away from us many things. Some lose career opportunities, others can't get to the schools they want, some break up with their girlfriends, almost everyone loses freedom. But that teaches us what's really important. Because when you know you only have control of your mind and body for one and half days every week, everything unnecessary just falls away. Video game rankings, expensive clothes, even exam results – what we wouldn't give to just spend time with the people we love.
And at least for the first time in eighteen years I was doing something that actually mattered for someone who did exist. It stopped being just about me - my homework, my grades, my wants, my interests, my dreams, my aspirations. There were larger forces at work. In the middle of a training exercise I realised that if I messed things up someone could actually die. My BMT sergeant once told me that BMT is really meant to break you down – they reduce you to basic building blocks which can be repurposed into something useful. That stuck. It doesn't matter if you're a recruit known primarily by your 4D number, a trainee in command school or a soldier in a unit - when you're a 'lowly NSF' you feel inconsequential, like a tiny ball-bearing in the huge SAF machine. But there is comfort in the knowledge that this machine serves an important purpose, and every day we have peace, every night our families can go to sleep without wondering if an RPG will hit them as they snore, that is one day our efforts succeed. If two years from a generation of males can win a lifetime of peace for a nation, then it is a worthwhile, albeit very, very costly, sacrifice.
That is why only pride remains in the tears that fall. It is the pride of telling Dad that the grenade you threw is the same one he threw thirty years ago. The pride of knowing that if something comes along which threatens to undermine what you stand for, you, alongside many others, can and will fight. It is the pride of looking at your pink IC and knowing you've earnt it, a pride only sweet because it used to be painfully bitter. It is the pride of having once wore green.
To all the past, present and future soldiers of Singapore,
Happy SAF day.