Underwear Aromas Blanket Entire Estate
A senior grandfather has gotten into a spat after blanketing his common corridor with foul-smelling underwear. The elder, whose name is unknown but is simply called "Ah Gong" by others, has been observed to change his underwear daily, as is common practice – but then simply strings his used undergarments up across the walkway instead of washing them.
"I hardly sweat, so why waste water washing them?" Ah Gong explained. "Instead, I leave them outside to dry in the sun. That way, I also get to show off my expansive underwear collection. And nobody dares to steal them."
Ah Gong works at an Ayam Penyet stall, where he is in charge of rice quality. He admitted that he is a compulsive underwear hoarder. "It's not what I want, it's just my nature," he added.
Asked if he knew his actions were affecting his neighbours, he replied, "Some people grow plants along the corridor. I prefer to grow my underwear collection. What's wrong with that?
"Even Superman leaves his underwear outside all the time."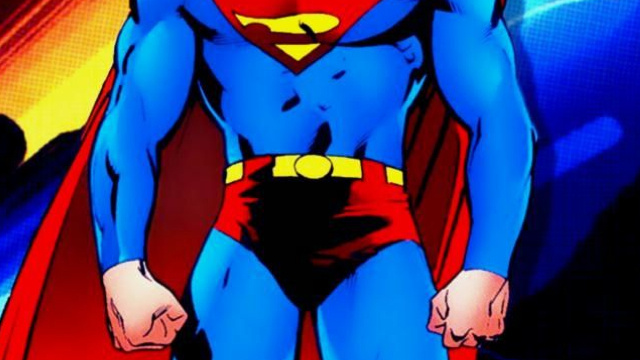 According to his neighbours in Hougang Block 67, this occurrence is not the first. Every year, Ah Gong has left his underwear hanging without fail, until sudden floods during the monsoon season washed them away each time. Now that the dry season is back, he is back to his usual ways.
However, his neighbours say this year has been worse than usual thanks to Amazon's newly-introduced free shipping to Singapore. Last week, a carton containing 125 pieces of Calvin Klein briefs was delivered to Ah Gong's doorstep, much to the dismay of his neighbours.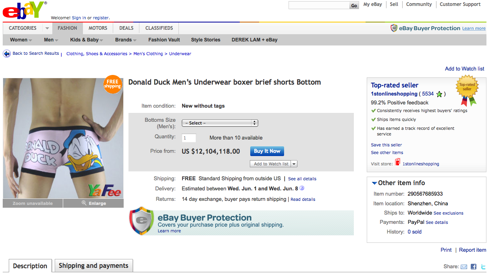 The stench has gotten so bad that even those living in the adjacent two blocks have been able to smell it. Ms. Joyce, who lives on the same floor as Ah Gong, said, "I felt breathless almost as soon as I stepped out of the door today."
"The corridor is obscured with so much underwear, you can't even see the lift from here anymore! Giordano, Hang Ten, Hush Puppies – you name it, he has it."
During a hurriedly-organised mediation session on Thursday at Ah Gong's void deck, his neighbours offered to pool together $500 to pay for his laundry. However, he rejected the offer, rebutting, "If it is only five hundred dollars, I don't need that. I might as well use that money to buy more fresh underwear from Amazon."
He further added that his colourful underwear has helped to brighten up his neighbourhood. "Our estate hasn't been upgraded since 1997. My multi-coloured garments are the next best thing to a fresh coat of paint.
Yet, my neighbours have never thanked me for the vitality that I contribute to the local atmosphere. They are all like that. We also haven't settled their noisy mahjong, nor the terrible curry smell from their cooking, tak boleh tahan lah!
They shouldn't be like children, in such a tizzy."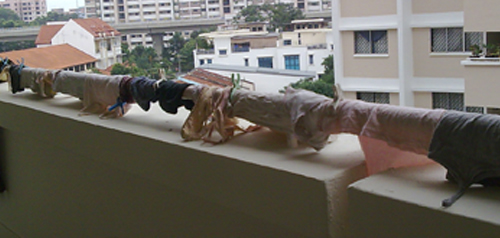 One neighbour, Mr. Bala, seemed resigned to this annual occurrence. "If there's one good thing about this, it brings the estate together against a common cause each time."
Mr. Bala is not the only one still feeling optimistic about this incident. A check on a nearby Guardian found that its year's stock of face masks had been snapped up.
At last count, the number of underwear has reached a high of 371, although the actual value may be far higher. Residents are now discussing the possibility of reporting the matter to higher authorities. Until then, it seems nothing will compel Ah Gong to cease hanging his dirty laundry in public.
Footnote: owlcove.sg is not actually a news site. This is not a real news item.